Are you looking for the most adorable Christmas love messages for your beloved girlfriend or boyfriend?  if you have absolutely no idea how to write a But worry not, my friend, because this why we are here for! Here is the heart touching collection of Merry Christmas Love Messages for you all. Christmas is a special occasion and what makes it more special is when we spend this holiday time with your beloved ones. It's the most magic and romantic time of the year when, for an unknown reason, love is being spread all around us.! Here you will find the best of best Merry Christmas Quotes, Wishes, Messages, Greetings specially selected for your loving kids, friends and family, your beloved girlfriend and boyfriend.
Heart Touching Christmas Love Messages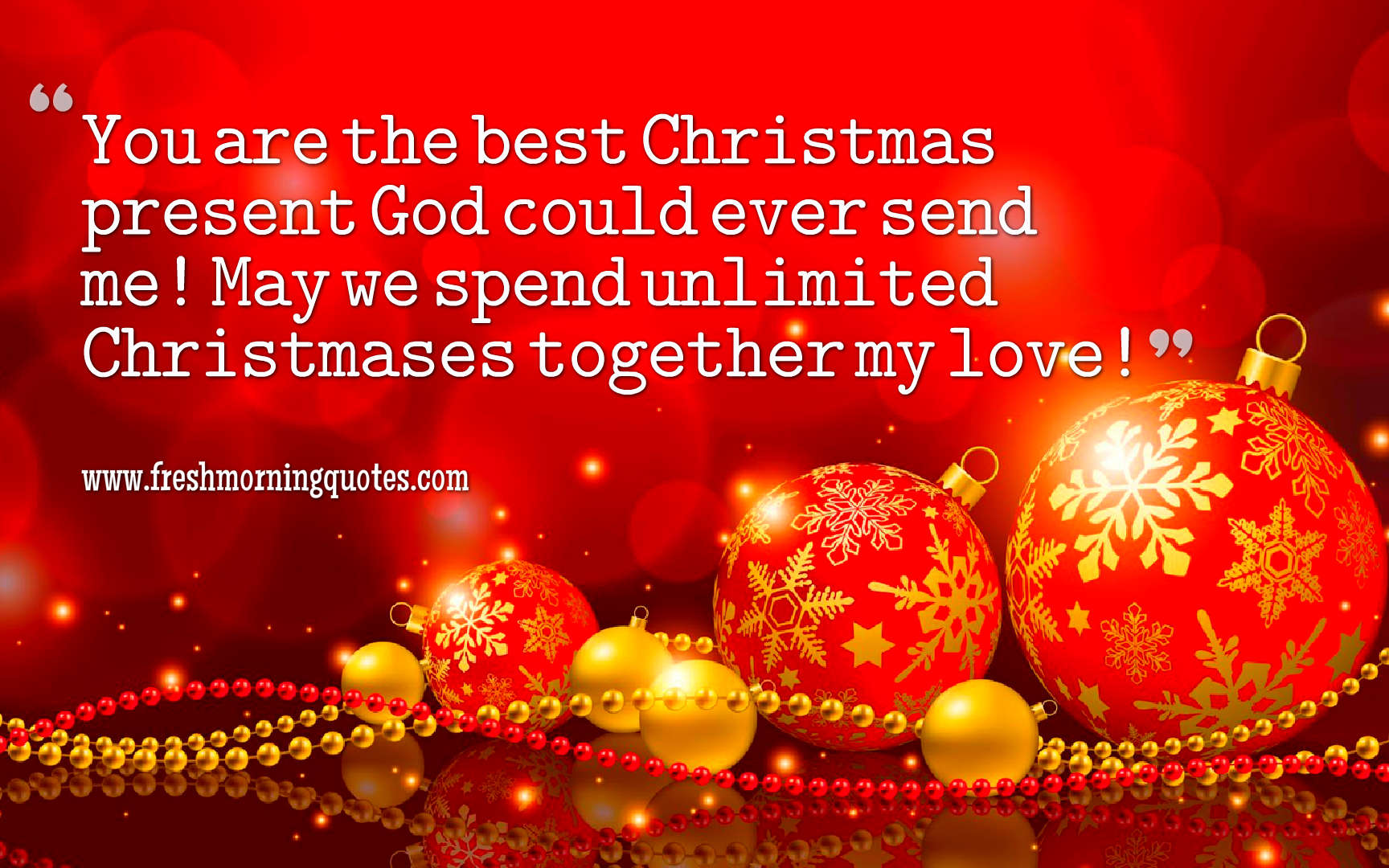 My feet may get cold, but my heart will always be warm with love for you.
---
I never wanted the stars, I never wanted the moon, the only thing I've ever wanted is to spend this Christmas with you!
---
May the Christmas light, brightens every dark corner in your soul and I will be always the lighter one!
---
Christmas brightens my heart and fills my mind with thoughts of being together with you.
---
Even though you drive me crazy sometimes, you can still drive me wild too.
---
I've enjoyed making great Christmas memories with you, and I look forward to more to come.
---
My Christmas is more colorful on this year Because this year I am having your love Merry Christmas My Dear
---
We may not be together this Christmas But just remember that in my heart You will always be around Together, by heart and soul, we will celebrate Christmas Merry Christmas and Happy New Year!
---
There's magic all around as Christmas is around the corner. It's even more magical when I'm being with you this Christmas!
---
Christmas time is a great time to be your boyfriend/girlfriend. I get spoiled by you a lot anyway, let alone at Christmas time.
---
Spending this Christmas with you, feels like Heaven. Merry loving Christmas to us!
---
Christmas without snow is like me without you! This Christmas though will be full of snowflakes!
---
It makes me very happy to have a boyfriend like you, someone who always keeps an eye on what happens to me, and who always gives me love and makes me very happy. At midnight tonight, I want to be with you to let you know I also love you with all my heart. Merry Christmas.
---
It was Christmas when we first met. It was freezing cold too. But in your arms I found a warm place to be. My Christmas wish is to hold me forever in these arms!
---
For the most special woman in my life, Who love me unconditionally, Who care for me Who cherish me Merry Christmas!
---
You make me happy in many ways, but tonight you only need to be with me and welcome the son of God in our hearts. Merry Christmas.
---
How many Christmases until we start looking like each other?
---
Before I met you, all days were the same for me. Now that you are my boyfriend, it is important to be together every calendar day and show you how much I love you. Merry Christmas.
---
May this Christmas find us together making love all the time. I love you my dear!
---
Christmas music, Christmas trees, Christmas presents, Christmas greetings and you! Merry Christmas, sweetheart.
---
All I want for Christmas this year is your presence. I don't need any presents from you.
---
You are my love and hope, Everything seems fine when you're around. I hope this love will be forever. Merry Christmas dear.
---
o need to pull my pointy ears. I'll be your Christmas elf this year.
---
It's not just the Christmas lights; it's also your smile. My heart feels so much warmth, when you make my Christmas bright.
---
---
The beauty of Christmas makes our love more beautiful. May our love be always strong!
---
I love Christmas because everybody is peaceful and love is everywhere. Let us be happy and together tonight. I love you. Merry Christmas.
---
You make me feel like a child waiting to open Christmas presents, even when it isn't Christmas time. Of course, when it is Christmas time, I feel that way even more. I just like hanging out with you a lot.
---
Christmas is a great time to spend time with family. Even though you are not technically family, I feel like you are. Merry Christmas!
---
There have been many tests to our love, but it is all over now. We are happy today and I want you to come to my house and welcome Christmas together. I love you
---
With your touch you make me melt like ice. Spending this Christmas with you makes me want melt in your arms.
---
Tonight I will dress up and look very pretty for you. I want you to look at me and feel glad to be my boyfriend. I want us to hold hands and wish each other a merry Christmas with a kiss.
---
Merry Christmas wishes to a special girl, Who has stole my heart. Enjoy Christmas with party and dance
---
I do not want you to get me any presents. I only want to have you with me and I will be very happy. Your presence is enough to have a merry Christmas.
---
Good thing I have you as my own personal heater.
---
You came into my life and gave meaning to Christmas! I cannot even imagine that sometime we will spend this time apart.
---
Your kiss can be my best Christmas gift. Come tonight and kiss me to feel all your love.
---
This is but a message. These are but words. But these spring from core of my soul To wish you all the best this season holds. Merry Christmas to you and your loved ones!
---
Love is heavenly and Christmas is an heavenly Festival So I am having great pleasure to wish Merry Christmas Merry Christmas sweetheart!!
---
Just seeing you brightens my Christmas.
---
Come down the chimney! I have a special Christmas present for you.
---
Christmas holidays is not about shopping and spending money. It's about sharing wishes and spreading love. I am happy to do this with you!
---
Love and faith I wish you for this Christmas. Hope to spend the rest Christmases of our lives together!
---
Christmas brings be happiness not because I can celebrate, But I know it brings happiness and cheers to my sweetheart Merry Christmas My Dear
---
---
You are my true love and I am blessed that I won your heart Merry Christmas
---
I can't think of anyone I would rather spend Christmas with than you. I feel blessed as if I have been given a great present.
---
May the magic of Christmas make your every wish come true.
---
This Christmas is Special for me, I am having a special person to think about Merry Christmas my love
---
Knowing that you and I both have Jesus living in our hearts makes the distance between us a little more bearable. That's the true meaning of Christmas for me this year.
---
This Christmas, I'm sending you a LOVE CAKE baked with: 1 cup of love, 2 cups of trust, 1 cups of devotion, And a dash of charm, Merry Christmas, enjoy your gift!
---
On Christmas time I found the treasure that changed my life forever. I found you!
---
All my love for you will be my Christmas gift. I love you and I want us to celebrate Christmas Eve together at midnight tonight. Merry Christmas.
---
If I could package my heart and send it to you for Christmas, I would. Since I can't, this card will have to do.
---
The best thing about Christmas is to hug you, looking at the sky and watching the fireworks. Thank you for making me the happiest girlfriend of all. I wish you a merry Christmas.
---
Christmas means love and being with you means being in Heaven. Merry Christmas my love!
---
The magic of Christmas will fill with magic our souls. Merry Christmas and I love you my magical boyfriend!
---
May this Christmas bring a new beginning to our relationship and give us the chance to be together forever.
---
If you were turned into a snowman by an evil witch, I'd definitely us my magical kiss to turn you back into the man you are. Then I'd make you snuggle with me to warm me up.
---
You are the best Christmas present God could ever send me! May we spend unlimited Christmases together my love!
---
Lifetime happiness is spending Christmas holidays with you and only you! Wishing you merry magical Christmas!
---
I may not always say this but I want you to know that you're the most awesome person I know The person who captured my heart And imprison me in her heart. Wishing you the best Christmas ever!
---
Ever since I am your girlfriend, I feel fortunate. Everything is going well and I am happy to be alive. This Christmas I want to thank you for making me so happy. Merry Christmas.
---
Having you lets me be sure that I won't be lonely or unloved this Christmas, just like having Jesus lets me be sure that I'll never be lonely or unloved any time of year.
We have tried our best to find the most heart touching Christmas love wishes and messages for you.  share these amazing heart touching Christmas love messages with your beloved husband, wife, girlfriend and boyfriend and spread love.!!!
You may also love :  100+ Heart Touching Merry Christmas Wishes